Small softwood storages boxes / trays / bins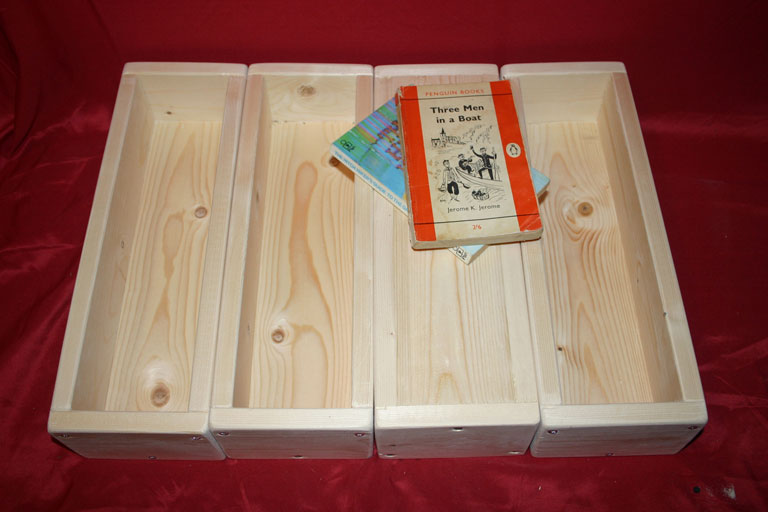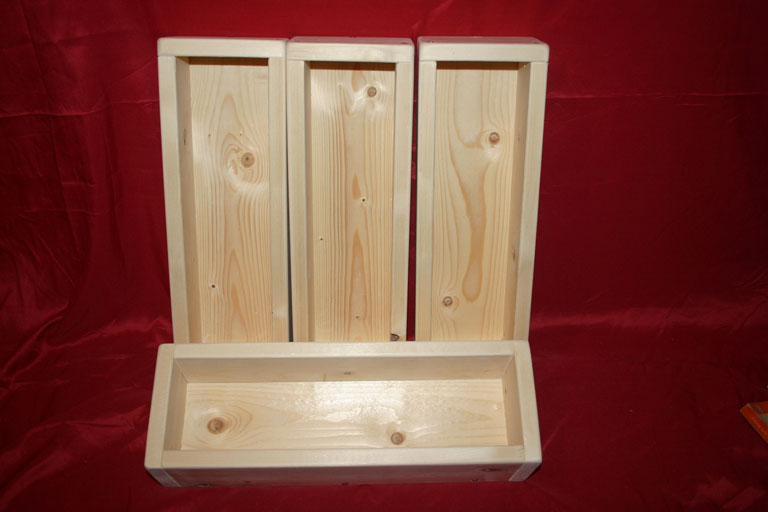 4x small wooden storage troughs / trays
Constructed from PAR (planed all round) whitewood (softwood spruce etc) and of glued & screwed construction.
Internal dimensions of each tray approx
~350mm long (~14")
~95mm wide (~3.75")
~75mm deep (~3")
Approx 2.25l capacity per trough
Thickness of timber varies, generally ~15-20mm
Supplied with a light sanding and untreated. For indoor, garage, greenhouse or shed use. Ideal for storing small tools, brushes, pencils, utensils, paint tins, craft materials etc. These are essentially made in the same manner as our small rustic planters but do not have feet or drainage holes. As such, if lined with plastic or tin-foil they can also be used to hold small plant pots on a windowledge.
This item is constructed from new PAR softwood timber which may still display waney edging, large splinters, knots, splits and markings. This is previously unused, not reclaimed timber. Please note that trough trays are of basic style and will have flaws including splinters, knots, splits, gaps, protruding screw heads, warping, marks etc. Over time and use walls of tray may warp and split.
This item is supplied with a light sanding and unvarnished, ready for preparation and varnishing / painting, or can be left as is.
Books and other items are not included and are only shown to give an idea of scale.
Prices - please see Price List A
General stock reference (Stock A5C1)
All items subject to availability. Listed prices exclude delivery and any applicable taxes and are subject to confirmation at time of order. Errors and omissions excepted.